Sold Out for Season ... Online orders begin again in April 2018... See you in Spring!
Our little trees are grafted to flower and produce fruit while growing outdoors during our Canadian summers and indoors during colder winter months. Each tree is able to produce an adequate amount of fruit each year, increasing in size and productivity as it matures.  
Truro, Halifax, Bedford, Dartmouth Local Delivery: 
Personal delivery is provided once a month to drop off locations in these areas. This provides significant savings on shipping. If you wish to place an order and take advantage of this delivery, please email us @ carlsonfamilyfarm@yahoo.com. There is no need to place your order online.
Canada Wide Shipping Prices: Tap 'ADD TO CART' button below tree you wish to purchase and your cart will appear. The cart will only display price of tree (s). Once your address information is given, select the "Shipping Method" box to view your specific shipping cost. This shipping price will then be added to your final invoice.
Improved Meyer Lemon $
50 
SOLD OUT for this year
       Native to China, this hybrid of lemon and orange
parentage, is sweeter and less acidic than true
lemons and 
was 
introduced to the USA in 1908, 
by Frank Meyer, an
agricultural explorer. 
The fruit has 
deep yellow skin; 
thinner than other lemons and edible, 
with a floral scent. 
        The Improved Meyer 
Lemon is disease resistant and is popular with
chefs who incorporate its unique sweetness and fragrance into their recipes. Its hardiness and ornamental characteristics make the Meyer attractive to growers and gardeners. Although it is tolerant of cold, it still needs to be covered or brought indoors when temperature drop below 20 Fahrenheit. Container growing is successful with its ultimate height reaching 6 feet with our particular rootstock. 
Kieffer [Kaffir]Lime  $50   SOLD OUT for this year 
    A backyard tree for most households in Thailand, the Kieffer Lime leaf, zest and juice supply great flavor to enhance many Thai, Cambodian and Indonesian foods. 
Lime leaves are dark green and glossy, with a double-lobe.
       This lime has dark green fruit with a bumpy surface and the peel contains high concentration of aromatic oils, indispensable in many curry pastes. The zest imparts a piquant flavor to fried fish cakes, blending in with spicy stews. In more 'soupy' dishes, the leaf is added whole or in smaller pieces, the same way Bay leaves would be used.  In salads the leaves are cut in fine, needle-like slivers. The rind is used sparingly; usually grated finely then blended as a paste with other ingredients such as lemon grass. 
Plant Care
Calamansi [Calamondin] $50  SOLD OUT for this year
    (Variegated & Non-variegated Leaf)

Our family's personal favorite, from our time living in the Philippines; the tiny but potent Calamansi fruit, from the Calamondin tree. This tree is native to China and the Philippine,s with its fruit being an important crop in both countries. It is hardy, surviving cold weather, but still needs to stay above freezing. It thrives in moist, sunny locations.
    The Calamondin can be identified by its upright branches, evergreen leaves, with blooms all year long, consisting of flowers and fruit; this tree's fruit is naturally segmented, acidic with a sweet and sour taste closely mirroring lemons and limes. It is used to prepare foods and drinks like tea, seafood, meats, sauces, curry and desserts.  (Image shown is 3 yr old tree). 
Nules Clementine 
$

50 

 SOLD OUT for this year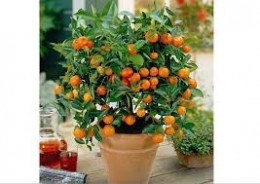 Noted as the sweetest, seedless Clementine, the Nules Clementine may look like a little tree but it is a heavy producer when fully mature. It is also pest, disease and drought resistant. The Nules Clementine is grown across North America as one of the most popular patio grown citrus tree because it easily adapts to countless environments with low 
maintenance

 needs. It is a Spanish Clementine variety; a Mandarin & Orange hybrid. As with most Citrus trees, it is also self-pollinating.              
Our Greenhouse 
What Our Trees Look Like
We provide plants 2 yr old, such as those shown above in our greenhouse, grown in 6 inch pots.
Citrus Blossoms
A picture of our Meyer Lemon blossoms; intensely aromatic, bringing an invigorating fresh scent to all indoor environments.
Shipping: We ship with UPS courier or Canada Post for fast delivery. 
Carlson Family Farm provides healthy citrus trees and makes information available to assist customers; however, once trees leave our farm, we can give no warranty or guarantee, expressed or implied, regarding their productivity, performance or life-span due to the many factors beyond our control.